Diamond Brand unleashes retail fury in Asheville… in a good way.
Asheville's local outdoor store just became a whole lot more accessible with three brand new locations across town.  Diamond Brand has delivered in a big way, serving the community with an upscale, boutique shopping experience in both Downtown Asheville and South Asheville.  They've also provided an outlet-style layout in West Asheville with the Frugal Backpacker store.
Downtown shoppers can access Diamond Brand from Biltmore Avenue on the first floor of the Aloft Hotel.  This is an easy walk-in store if you're dining downtown or just passing through.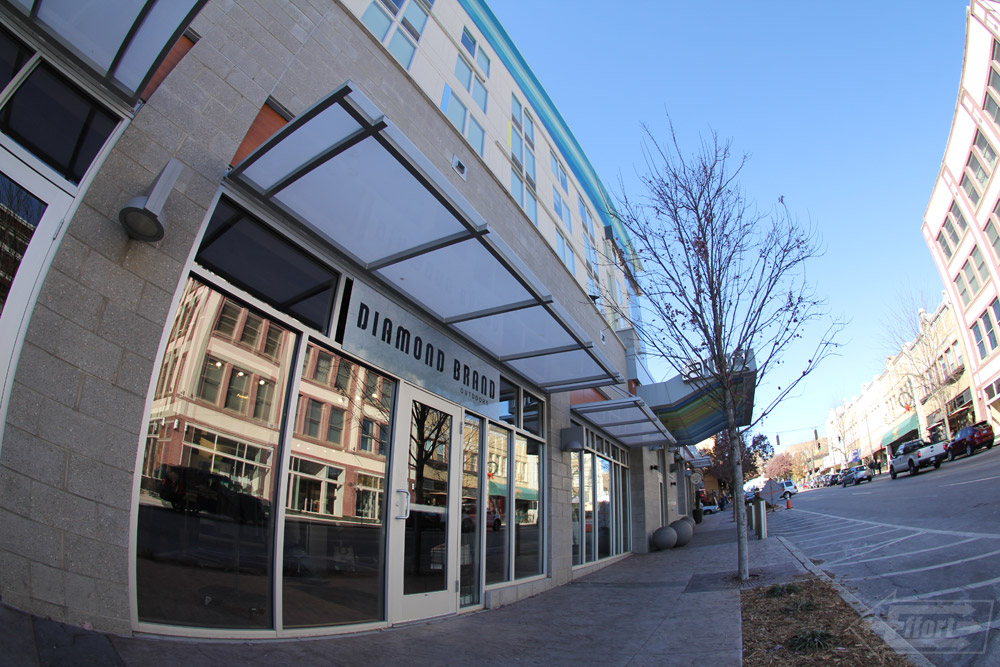 The downtown store offers a second entrance from inside the Aloft Hotel.

West Asheville residents, or those looking for a deep discount on clothing or outdoor gear, will find Frugal Backpacker next door to Earth Fare in West Gate Shopping Center.


This outlet store is packed to the gills with bargains on footwear, socks, sleeping bags, tents, etc.

Their new flagship store is far closer to town while still serving the South Asheville and Biltmore communities.  Parkway Centre on Hendersonville Road is home to Liberty Bikes, The Fresh Market, Starbucks and now Diamond Brand.


A walk through the new store was an experience in itself.  You can even test out a kayak in their new simulator without getting wet.