Tight Black Shorts for The Mann Group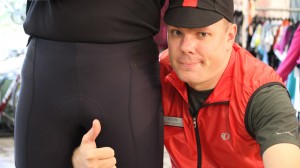 One of my favorite jobs in 2013 was working on this video with Dan Mann and Travis McDowell.  Dan and The Mann Group are always enjoyable to work with creatively and the product we turn out together tends to be a good one, especially when a talented cast is involved.
You can pretty much put Travis in front of a camera and tell him to say something funny, and you'll have solid gold.  Give him something that's already funny or just funny potential and you're sides will be splitting once he puts concepts into words and actions.  Some of the funniest footage was actually cut from this edit because it was a little too risque for Shimano & Pearl Izumi, clients of The Mann Group and the reason for this project.  The true purpose of the video was to shed light on the fact that it can be awkward as a retail clerk to sell tight, black cycling shorts to men.
– Spencer Cooke, Effort Inc.